Vientiane – the capital of Laos, a city with Soviet, Sino- and Franco-styled architecture mixed with a raffish past of Siamese invasions, CIA spooks, daredevil American Raven pilots and Russian advisers. The city that in many blogs was described as "lame", "without a soul" or simply "not worth seeing". All of those comments didn't sound promising and we discussed for a long time if we had to stop there.
The decision was made for us…when we finished the loop the day earlier, there was a direct night transport to Vientiane. We thought it would be a good idea to stop in the city for one night, to figure out the rest of the plan for Laos and well, at the end it was a capital of the country.
So here we were, in front of Mr Wang shop waiting for our bus to come. We were supposed to leave at midnight but we knew it would not happen…To our surprise though, Mr Wang came at 23:30 to let us know that we were moving to the station. Wow – we were impressed. We took his songthaew (basically a truck-like tuk tuk) and we left Thakhek. Not far though…we stopped just outside the city and we were asked to follow Mr Wang with our luggage. We entered a massive hostel and we were shown the "common room" where we could " wait" for the bus to come…also he showed us a room, with one mattress on the floor saying that we could use it – there were 15 people in that truck….Nico and Danusia quickly sit on the mattress to block it because she knew the wait would be long…The room stunk, the mattress was dirty with plenty of dust on it, but we didn't care – we just wanted to go to sleep. We invited also Isabelle (she was travelling to Vang-Vieng) and we fell asleep…the three of us on one mattress. We were awaken 3 hours later – our bus finally arrived.LOL
We were tired and we just wanted to go to sleep (it was hotel bus again) but all the double beds were blocked by single Lao men. We politely asked to move – we bought a double seats but those guys didn't want to move. We were getting super pissed. We started to shout and preparing ourselves to simply kick them out. You may think that we were overreacting but there was simple reason of those guys behaviour: it's super known in Laos that men lay on double seats and hope to get a woman next to them during the travel. It was reported that many women were touched and abused sexually during those travels and in our group there were some single ladies too.
Finally, the driver had to intervene and the guys moved together, living us no choice and laying with two other girls at the end of the bus ( on 2nd level). You would think, that it was the end of our struggle but unfortunately it wasn't. Danusia was sleeping calmly when at some point she felt, she was levitating. She opened her eyes and noticed that her nose was next to the ceiling and then she hit the floor again. With a probably small concussion, she realised she wasn't flying but because the driver was not avoiding any bumps, we were jumping all the time on the back of the bus…Forget the sleep.
We somehow arrived safe and sound in Vientiane but we were extremely exhausted and pissed. The tension between us was growing due to many different reasons and we couldn't find a solution for the hostel. After definitely too much of shouting we just decided to stay in the closest hostel in the super simple double room. Obviously we had to climb 3 levels to reach it but then it was: a bed, a mattress and clean sheets. This is what we were dreaming about so with no hesitation Danusia took out her backpack and speeded towards the bed. She took a huge jump and landed…on table or cement floor or just freaking, super hard mattress. She literally couldn't move, actually she thought she broke her ribs…The bed was awful. We were so disappointed that we both fell in some kind of depression. In addition, guess what? She was back. Our friend diarrhoea this time visited Nico – to shortly be passed to Danusia. Brilliant.
You can imagine that we were in crappy moods. We just wanted to leave that place and we were definitely not in the mood to visit. We hanged out a bit in the room but finally decided to stroll a bit in the city. It looked like a lively city, with many post-French traditions (baguette for instance), restaurant etc but our stomachs were refusing the food for now. We walked till Patuxai: Vientiane's Arc de Triomphe replica officially called 'Victory Monument' and commemorating the Lao who died in pre-revolutionary wars.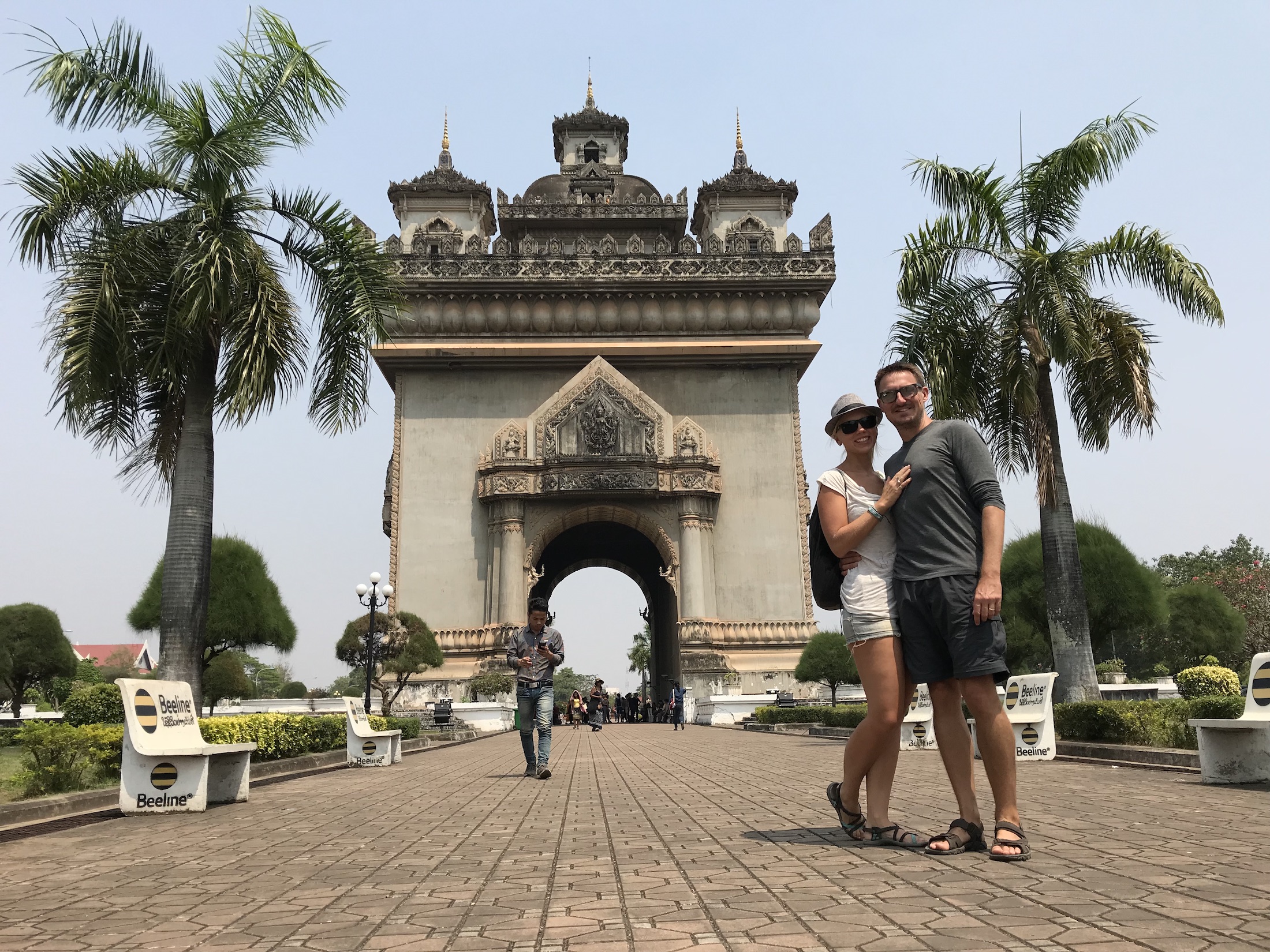 Afterwards, we quickly visited Pha That Luang the most important national monument in Laos; a symbol of Buddhist religion and Lao sovereignty.
To finish, we wandered along Mekong via long promenade. We passed through enormous night market (very famous in Vientiane) and somehow fell asleep on our super hard mattress few minutes later.
In the morning, we felt slightly better so we decided to move from the city asap. Our hostel was organising the buses to Vang Vieng and without hesitation we took the tickets. The ride to the bus was already challenging (we were at least 30 in songhaew with the places for 15) but we didn't care. We just wanted to leave and discover nicer parts of Laos.