4000 ISLANDS
We were slowly approaching Don Khon on the boat and everywhere we were seeing smiling locals and their children playing at the hmm shore? Unfortunately as in the previous Asian countries the garbage was everywhere and seeing the kids playing in the water (that wasn't very encouraging to swim honestly) with plastic bottles around them was hard.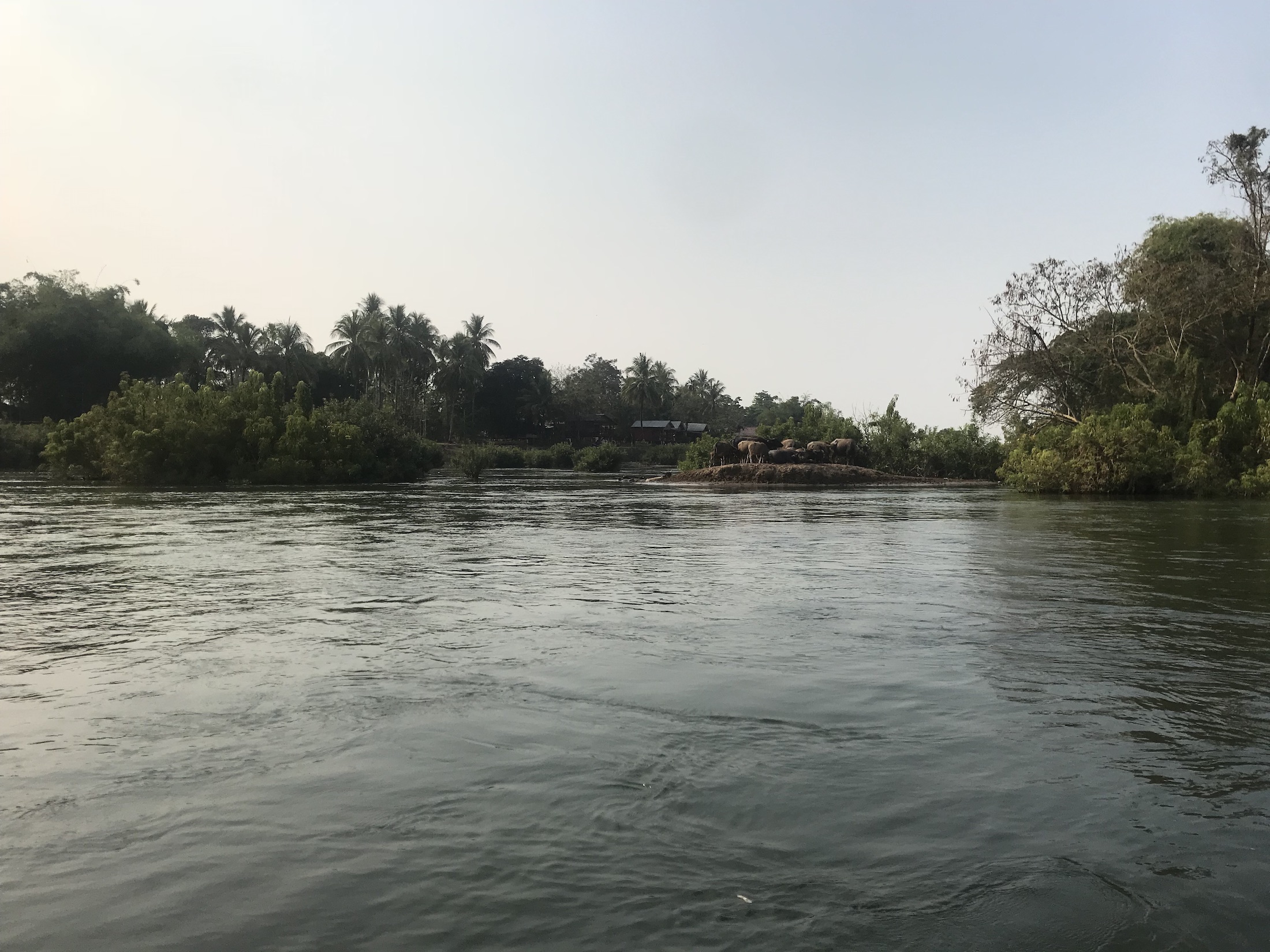 We were only 25 minutes in the boat and we've already passed at least 20 different islets – nothing weird – we were in Si Phan Don – Four Thousand Islands region. This beguiling archipelago of islets is the emerald jewel near the end of the Mekong's 4350 km journey and one of the "spots' in Laos. We were pretty sure we would not be able to see the famous "emerald effect" due to the latest rains but we heard it was a perfect spot – just to slow down, have some rest, relax – whatever you call it. And we needed it…
The thoughts about upcoming "the end" were at this point all the time with us, and we realised how tired we were…The recent transport, tourista (aka diarrhoea-yes she was back), and not that many "whoaou" spots in Asia called for a break and we thought that Don Khon would be a perfect place.
We found a small guesthouse with a real hammock in front of Mekong (actually almost in front of Mekong) and we chilled there till the end of the evening, drinking a local beer and chatting about the future.
The next day, we woke up a bit later than planned but hey – the idea was to relax 😉 We went to the restaurant next doors and we ate an enormous breakfast prepared with local touch! Local shakes, eggs with vegetables and Lao tea – mniam, mniam – we knew lunch wouldn't be necessary. In addition we were joined by Arthur – a cat that spent with us all breakfast – probably because Nico was feeding him under the table.
After such an awesome dish, we rent bikes – 10000K (and we truly regret not taking the pictures of them, because they looked like the ones we had in Skodra, Albania or like our grandparents had in the 50ties) and very, very slowly we pedalled to Li Phi Falls. We didn't expect miracles but we were actually positively surprise by dozens of extreme rapids and multiple mini-falls of Mekong.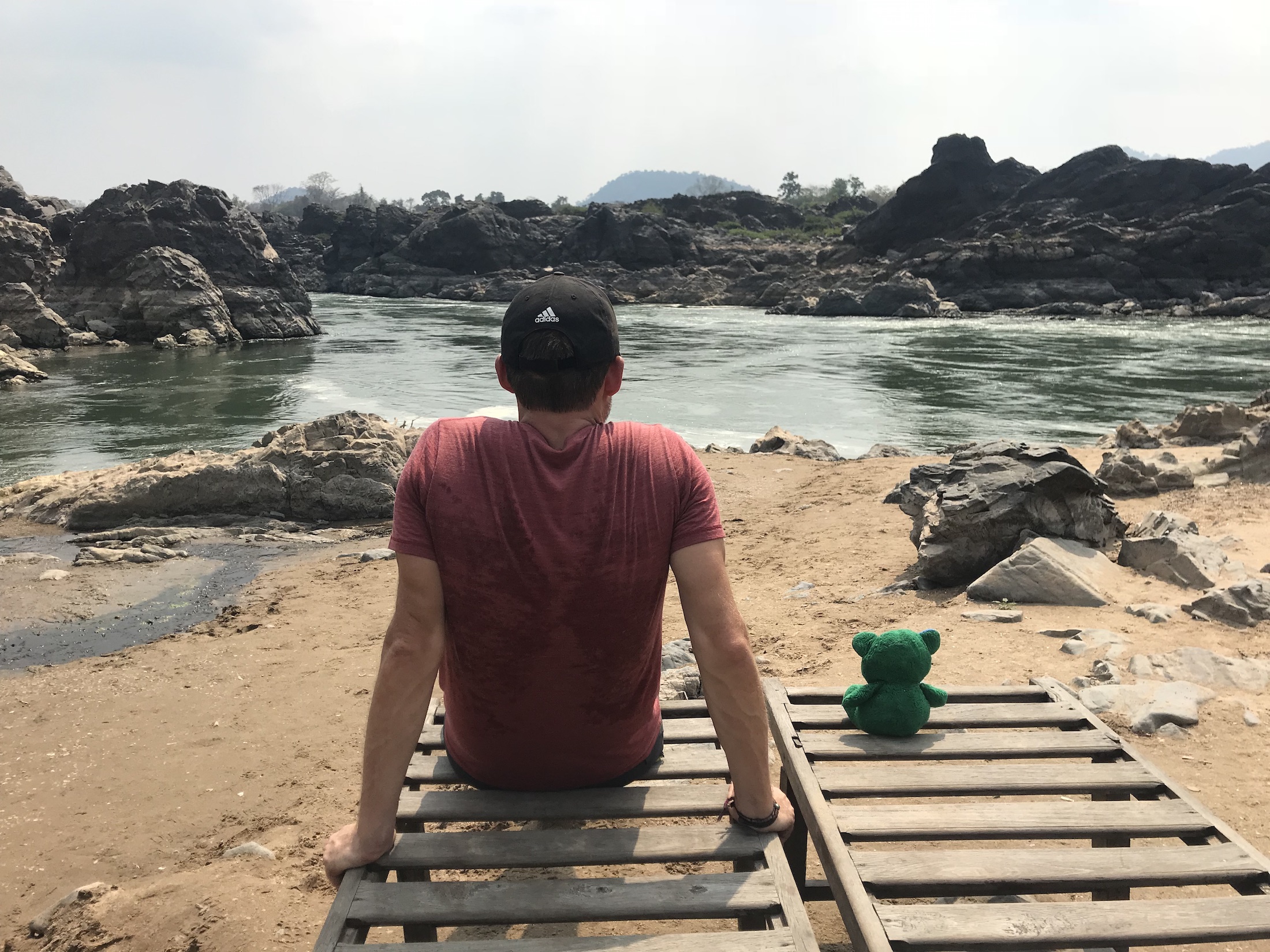 In addition, at the end of the small trek there were small bungalows and restaurant selling cold drinks and we were diving for something cold. We bought delicious local ice tea and enjoyed the view for the next two hours (ah yes we meant sleeping in hammocks:).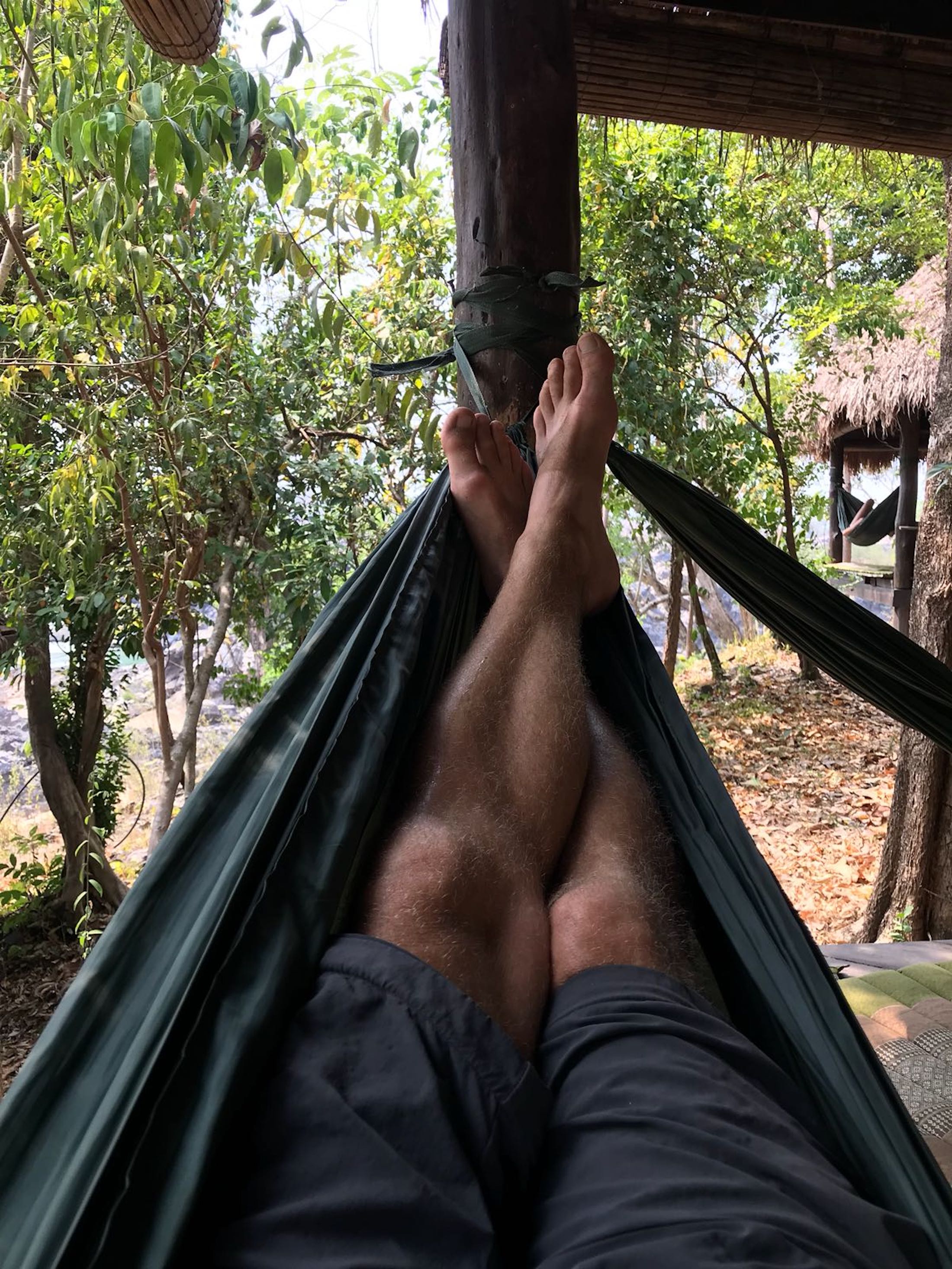 It was getting a bit late and we had two other points to visit and seeing the status of our bikes we didn't expect to  pedal fast…LOL and we were right. The extra 2 kms we had to do were catastrophic. The road wasn't helpful at all, we had a feeling to drive on the bumpiest road of Laos and each kick was felt on our buttocks. We managed though, to arrive somehow at the other waterfalls and well we did like Julius Cesar: VINI, VIDI…and there was no VICI…instead it was CIAO. The waterfalls were absolutely not appealing, we couldn't swim because the water level was too low and we were craving again for a cold drink. (On the side note: the temperatures in Laos were even worse than in Cambodia… they were arriving up to 35 degrees and the air was extremely humid).
We left the place and passed the bridge to the second "most known" island Don Det. We were looking for a specific place for the sunset view and we had a luck: Mama Tanon was easy to find! We read that this small local restaurant managed by a mega kind grandma has a fantastic sunset view on Mekong AND that meals were delicious. We confirm both!
We enjoyed the sun going slowly down, turning orange, then red and then slowly disappearing leaving the reign to the darkness. It was exactly at this moment that a thought passed by our brains: how the heck we were going to come back… We didn't take flashlights, our bikes barely had breaks so forget about lights and the road was pretty bumpy…
OMG it was an unforgettable ride…Danusia trying to drive with one hand and using an iphone with a second one to light the way. The ride back instead of 15 minutes, took us at least 30. We promised ourselves it was the first and the last time we would drive bikes in the darkness:)