THAKHEK LOOP DAY 1
We wanted to leave early in the morning to make sure that we have enough time to visit all the spots in our loop. We were super excited – 4 days over 400 kms, Khong Lor caves an other things were waiting for us. We arrived at Wang Wang motor shop and our vessel was already waiting for us. In addition we managed to negotiate the price and we got it for 90000 kips per day yey!
We checked our scooter, made sure that all necessary things were accessed easily whereas the rest was going to our small trunk. We also studied plan of an « exit » of the city. You see, Lao police used to tourists leaving Thakek for the loop, found the way to charge them fines for imaginary reasons. The most common one, was lack of scooter driving licence that they explain is "mandatory". We spoke with many loopers, that were caught by them and any kind of explanation, that with driving licence B you actually CAN drive the scooter was not accepted. Only money counted. This is why, the owner of the motor shop produced the map with all police checkpoint and how to avoid them. Brilliant.
We were about to leave, when we noticed Chantal and Bernard parking next to us. We met them in our hotel and it turned out they were also commencing their Thakhek loop. We wanted to share with them the checkpoint police knowledge and to make sure they would not be caught. The subject interested one more rider: Isabelle – she was a lone traveller that has never driven scooter before…courageous!
As you can imagine, after this short discussion we decided to leave all together. We led the way and we triumphantly managed to avoid all the police checkpoints !! Yey!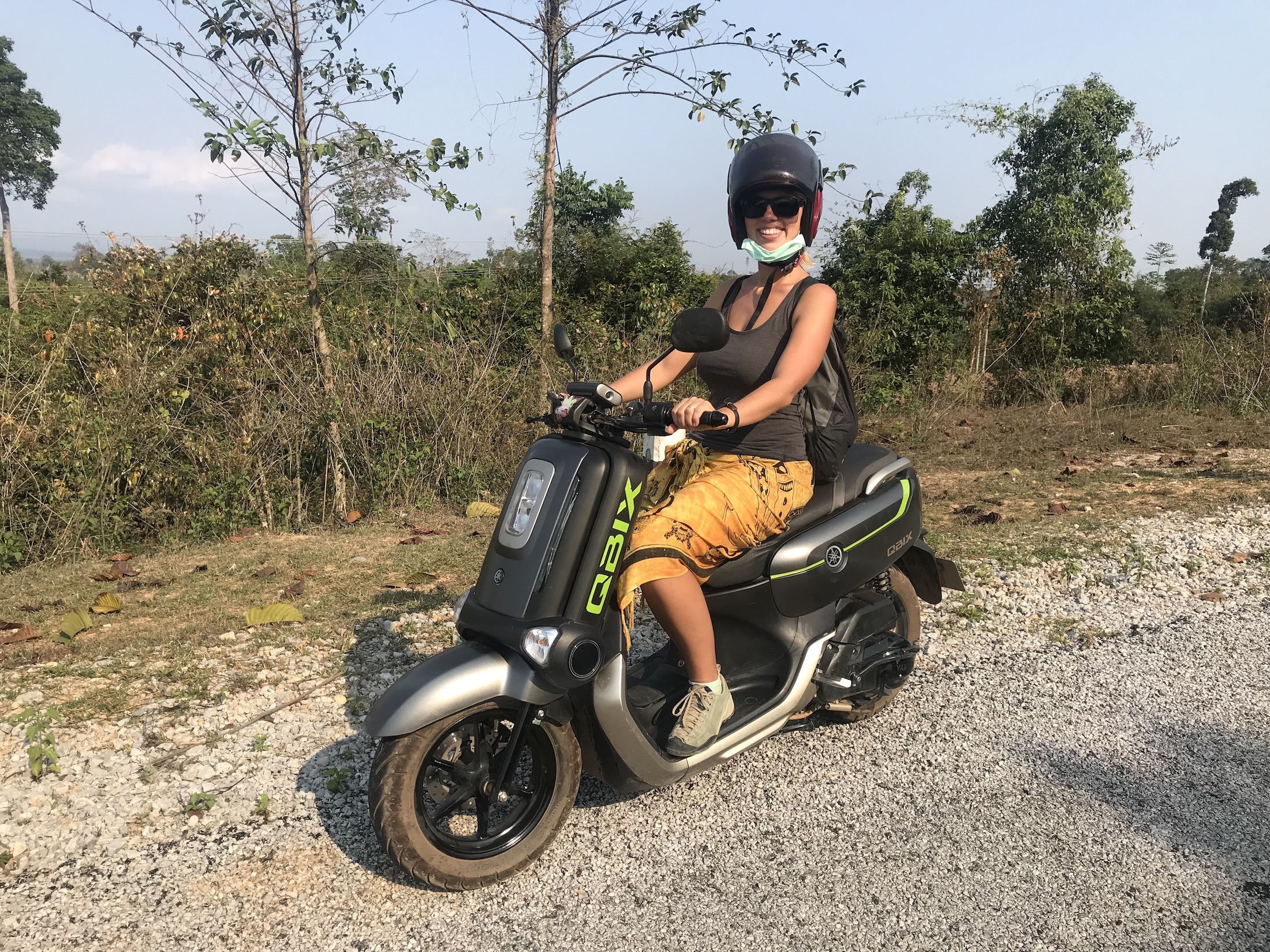 The first day of the trip was all about the caves. This region is particularly known not only by the most beautiful landscapes in Laos but also by the multitude of different types of caves. We obviously came there mostly to see the famous Konglor Cave but it had to wait – we were still pretty far from it and our butts hurt already 🙂
We decided to stop for the first time at Xiang Liap – a beautiful cave graved in the mountain that can be visited for free. We encountered there Aurelie, another lone traveller that after short discussion decided to join us too! It was really cool, in one hour we formed a group of 6 riders and the adventure looked even more appealing!
The next stop was at Tham Pha Inh – a cave where we could actually swim because it was filled with water. However, the spot didn't look appealing for everybody. Honestly the water looked quite scary, we didn't know how deep it was and obviously we didn't take our  swimsuits.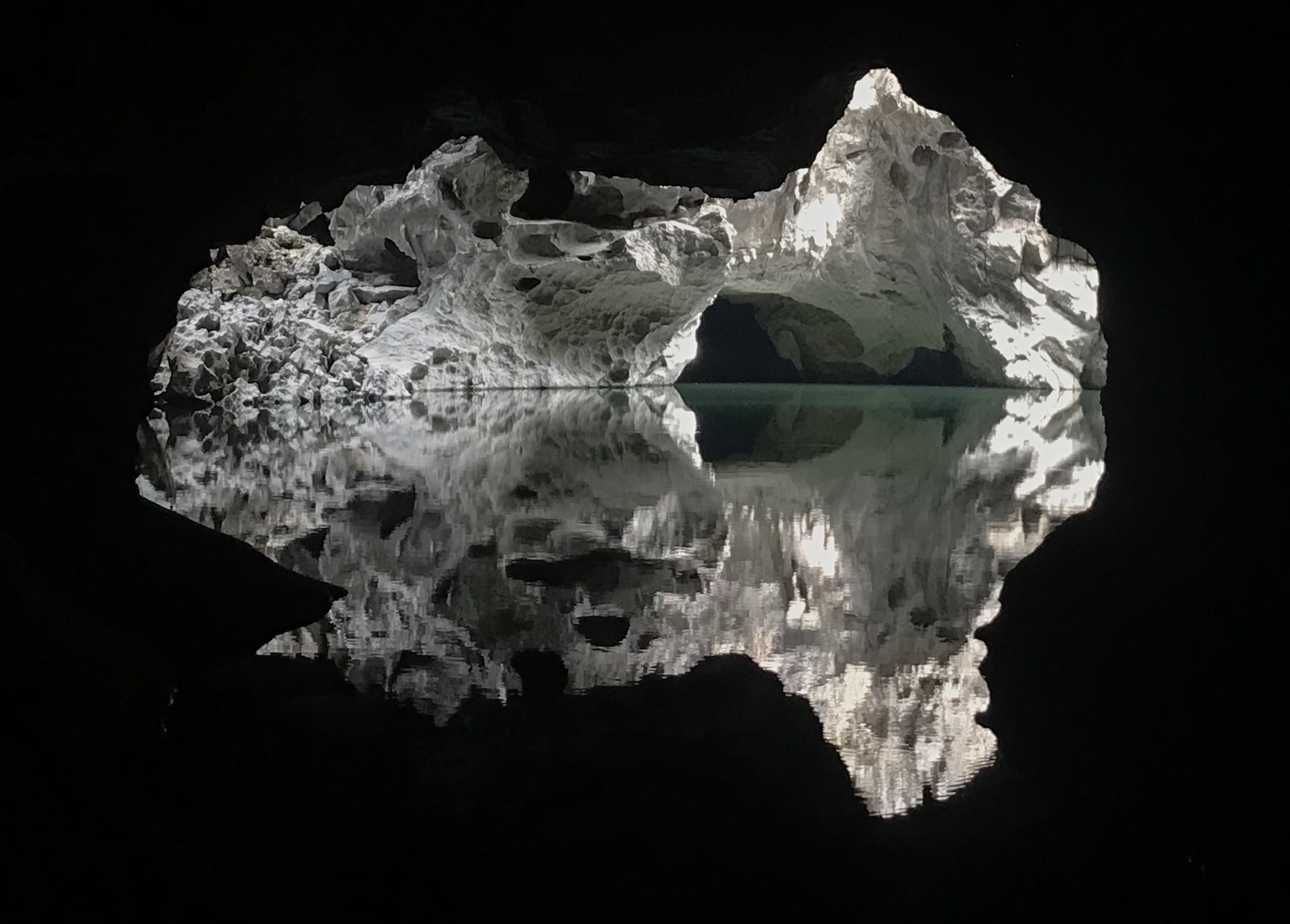 We explored slowly the cave, going deeper and deeper into the darkness. We had our headlamps obviously, but because of slippery floor we had doubled our attention. Finally we reached the end of the "walkable' track and we were discussing what to do next. Finally three explorers decided to go into the water: Danusia, Aurelie and Bernard dove into the freezing water and started to swim towards the light. It was a brilliant idea, the  cave was even more beautiful from the water, enlightened by the sunshine. The three loopers stayed 5 minutes more in the water and then got out trembling and trying to heat up. It wasn't an issue, the temperature outside was at 35 degrees so they were dry in only few minutes.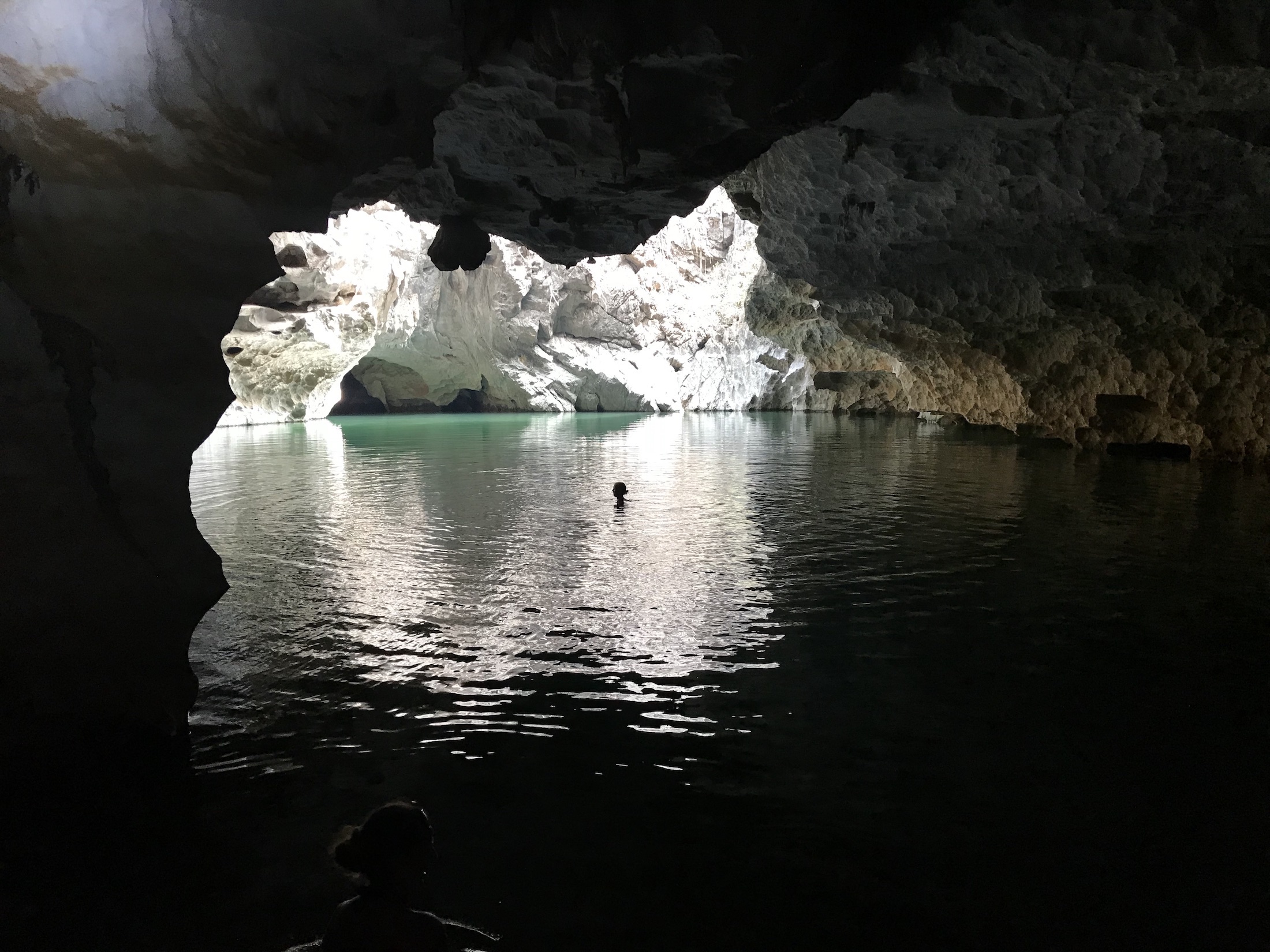 We continued the ride for the next few kms until we reached Tham Nang Aen – the colourful cave. We tried to negotiate the entry fee (we were a group of 6 at the end) but Lao guards were stubborn – no discount! A bit disappointed, we paid the fee, drove 2 extra kms and went to discover "colourful cave"…Hmm..indeed it was colourful, thanks to the colourful lights that were illuminating the interior…LOL We were persuaded that the cave itself was colourful due to many different minerals or something like that but hmm nope it was not the case 😉
We drove only 20-22 kms so far but we had already sore butts and were a bit tired. The short coffee/milkshake break was welcomed and we stayed a bit chatting an exchanging the adventures. We also decided that although staying in the different guesthouses in Thalang (our final destination) we would all meet in Sabaidee Guesthouse for the famous all you can eat barbecue buffet! We heard about this place many times, while reading different blogs that is "a must " stop for all loopers.
There was no time to waste then – we were all very hungry already 🙂 We drove the next 80kms without stopping and at the end of afternoon we reached Thalang.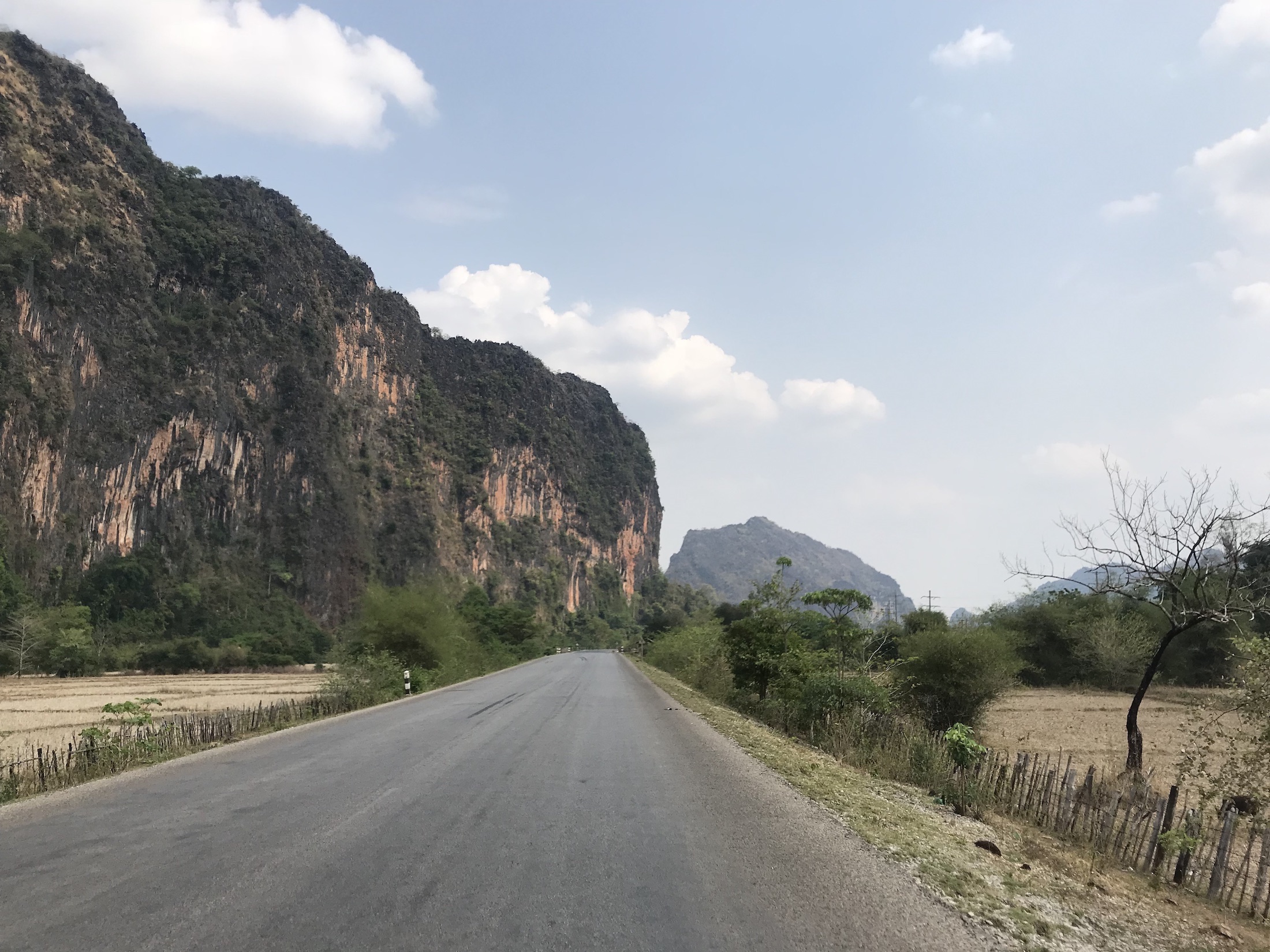 Bernard and Chantal went to their small hotel and we checked in to Saibadee. They still had available rooms (also for Aurelie and Isabelle) and we could finally have some rest. It was a really, calm and cosy place. There were hammocks, fireplace, bar with all necessary things (beer of course) and bites.
We sat in the bar for at least an hour and we got friendly with another French couple touring the world: Quentin and Laura. They were super friendly too, so now – the group of 8 met for the sunset.
The buffer dinner followed and we all ate like pigs, chatting, laughing and drinking. It was an amazing evening and definitely one of the nicest memories of Laos.
THAKHEK LOOP DAY 2
The evening was wonderful but the night was horrible for certain…Danusia once again was joined by her annoying friend: diarrhoea and she didn't sleep well from obvious reasons. She felt slightly better in the morning, but we had to prevent the fellow loopers that some extra few stops would be necessary…glorious…
The objective of the day was Konglor Village located 150 kms from Thalang, from which we were super close to the famous Konglor Cave. We wanted to visit it in the morning, to avoid thousands of tourists that is why, it was crucial to arrive in time. At the same time, we wanted to have few stops on our way so shortly after 9:00 we were already on the road.
The first stop was few minutes after, and no…there was nothing special to see…it was Danusia's stomach that needed an immediate pause…Everybody was super nice and totally understood the situation – they were also long-term travellers and they knew what diarrhoea meant.
To quickly forget about this unpleasant moments (because few extra stops followed later on) we tried to concentrate on the landmarks. It was rather sad view, the nature totally devastated because of the men. Few Chinese factories built a dam few years back that totally changed the ecosystem and left a lot of forests (and obviously animals living there) for death. The flooded forests could be seen on the huge area, we could only imagine the result deeper in the country.
We continued the ride and spotted some more cheerful vistas. Never-ending steppe, with sharp-looking karst mountains – brilliant.
We didn't want to concentrate all the time on the nature so we decided to stop at Lak Sao temple. We even heard monk playing the gong-that was really cool.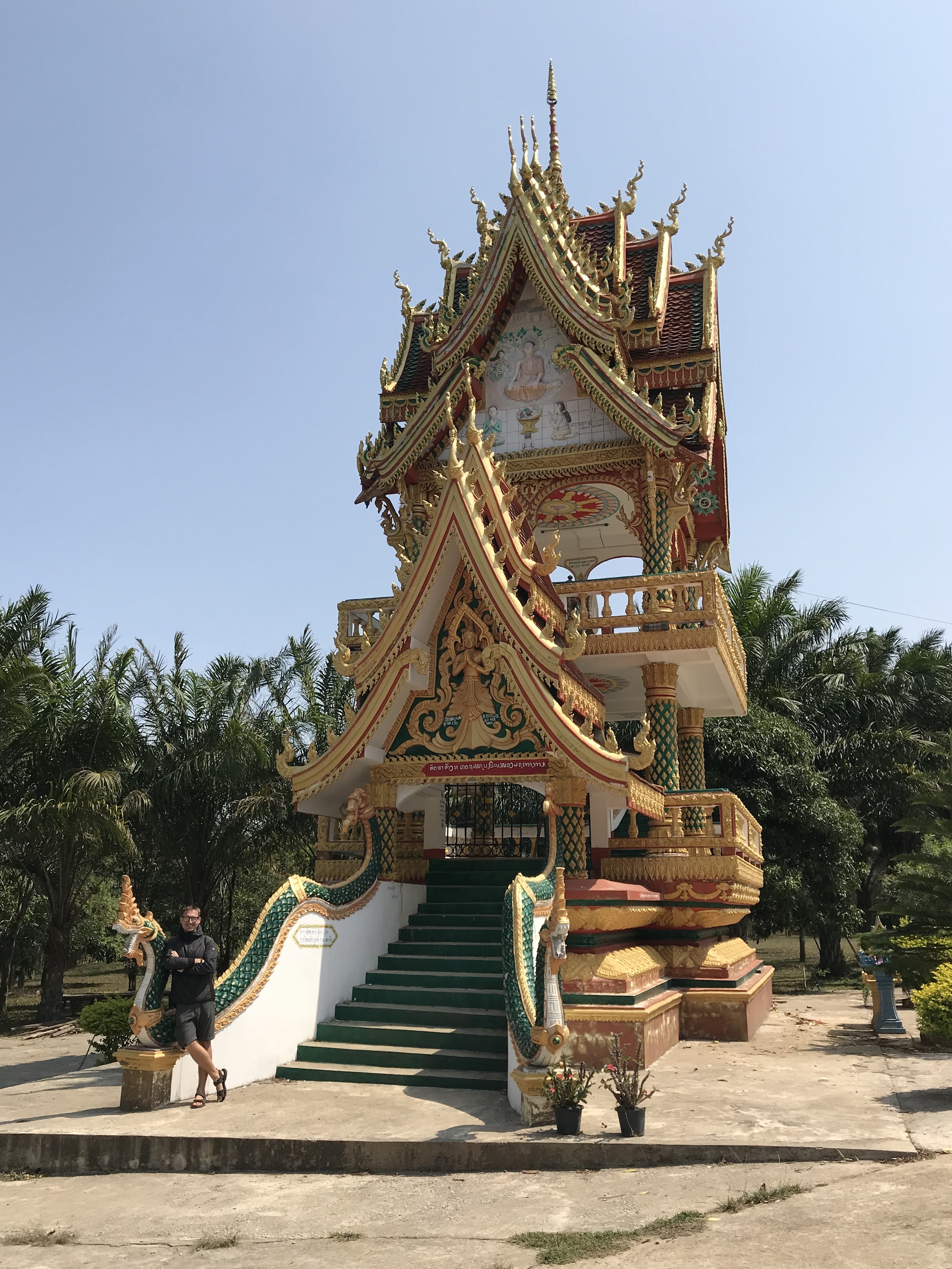 We finished the visit of the temple and we continued driving till Cool Springs. It was a spot that everybody looked forward to – it meant water, ergo refreshing our bodies to bearable temperatures. For the time being, the temperature was high but because of the altitude we lost few degrees. We still dreamt though, about cold nice shower. We paid the entrance fee and our jaws went wild open… There were plenty of Lao people – families with kids, cousins, grandmas, aunts , etc., etc., – all of them gathered on blankets with bunch of food and even more bags of alcohol. Cool Springs or rather natural swimming pools created thanks to the undergrounds caves – looked like French aqua park in the middle of summer – totally overcrowded and definitely not clean at all…Our dreams to chill out went away but shortly we were invited to sit with locals. They were mega friendly, gave us local alcohol to try, plenty of beer and tried to communicate as they could. We weren't able to try everything – we were driving at the end, but those few minutes were fantastic. We felt super welcomed and thanks to those families this day looked immediately better (we learned later, that they were celebrating 8th of March 😉
We left Cool Springs with big smiles on our faces and drove few kms more to find a warung for lunch. Danusia ate only rice – she didn't want to risk any extra adventures but the rest was tempted to try the field rat….but nobody had courage to do so 😉
In the late afternoon we arrived in our small village. Again Bernard and Chantal left us to reach their hotel, and the 6 of us started to find a place to sleep. It took us one hour to finally find a guesthouse that was recommenced via other blog: Guesthouse nr 4 – that for 50000 kip (5 euro) offered a place to sleep, dinner and breakfast. Obviously it was nothing fancy: "our rooms" or rather spaces that fit mattraces were super dusty and hard like hell. The bathroom didn't have a hot water and it was very Lao style: a huge basin of water for multi-usage (showering, washing the teeth, flushing the toilet etc)
We were starving and we were looking forward to the dinner. To burn some time we went for a drink at the local restaurant and then came back to our hosts for the dinner. We hoped that we would all share the dinner with the family but the lady gave us food (delicious rice with cabbage) and then left.
It was a great dinner anyway. We again laughed, exchanged adventures and summarised our trip so far. We decided to attack Konglor Cave at 8:00 in the morning and we fell asleep.