On 5th of March we decided to leave 4000 islands. We had some rest, recharged the batteries and it was time to start going north of the country. In a week we had a meeting with Hugo and Aurelie in Luang Prabang and we wanted to visit few places in Laos that were on our way. Our first choice of a long stop was Thakhek and it's famous « Thakhek loop » – a 4/5 days scooter trip in the region to discover caves, beautiful nature and local mountains. However, first things first-we had to arrive in Thakhek…and this is where this story starts…
On the 5th of February, we left our small bungalow in Don Khon and left for our breakfast with Arthur. Unfortunately we didn't see him but we did see his owner who sold us a « direct » ticket to Thakhek in « VIP Bus » that supposed to leave us at our destination at 8-9pm It looked logical, the boat was leaving at 10:30 so we calculated that the bus would be leaving at 11:30, 10 hours to reach Thakhek. We knew it would be a long day in the bus but there was not much of a choice, and we wanted to be in Thakhek asap.
We finished our breakfast, reconfirmed with the owner the hours and left to grab his boat to Nadasang. Everything was going with the plan until we got out from the boat. There was no bus waiting, there was nobody to pick us up, there was basically nobody…We looked around to see what others were doing and everybody seemed to walk towards the bus station placed 1,5 km away…
It was mega hot and our backpacks somehow managed to weight double (at least that was our impression), so when we arrived at the station we were totally wet. In addition it turned out that our "bus" was leaving in 1 h…We didn't like it at all and we didn't like it even more when the bus arrived…It wasn't a VIP bus (meaning Air Conditioning), but casual, local bus that in addition was overcrowded…we barely managed to grab our seats but there were plenty of people that were given stools and they sat in the corridor between the seats…
Danusia looked at Nico and he was literally boiling and he was close to murder somebody. The bus left Nadasang and long, very long hours of transport started. We could literally feel every bump and we were praying that this ride would finish asap. We learned at the station that we were going to change the bus for truly vip one in Pakse. The problem was that the the new bus was leaving at 15:30 from Pakse and at 15:00 we were still 40 kms away…
We started to panic. We didn't want to spend a night in Pakse or to keep riding in this horrible bus. However, there was nothing we could do – we were working our anger with big breaths: inhale, exhale, inhale, exhale etc
We arrived in Pakse at 16:30 and to our huge surprise the bus was waiting for us! We took our much more comfortable seats, left our luggage downstairs (it was double decker) and finally start to think that everything would be all-right:)
There was nothing all-right in the fact that at 18:00 we were 10 kms from Pakse…The bus was stopping literally every 2 minutes to take passengers, furniture, packages, different types of grain bags, animals literally ANYTHING. In addition every time we were passing by food markets (and yes we were in Laos so there were plenty), the driver was stopping to eat!!!! We were starving too but we wanted even more to arrive at our destination…We were so pissed and tired that Danusia had to literally keep Nico next to her because this time it would definitely finish with the murder. Even inhale, exhale stopped working…
This torture finally finished at 1 am in the morning. We were exhausted and we were imagining what we were going to do with the guy who sold us the ticket…
To cheer up and to change our moods Nico booked the room in the nicest hotel in Thakek and we literally collapsed on bed.
THAKHEK
We woke up late (obviously) and we knew it was too late to start the loop. We decided to take care of the rental plus some additional organisational points. We went to Wang Wang Motor Rental to rent a scooter and to our sad surprise the cheapest version of full automatic was already gone. We didn't want to try the real motor because none of us knew how to drive it so there was no choice we had to take the expensive one:(
A bit sad about such a turn of events we left to buy few things necessary for the loop. Extra batteries, dust masks, sim card , etc. We also decided to spend one more night in Le bouton d'or – thank you Boo.
In the evening we went to discover city's promenade. We saw plenty of small monks playing at the river and staring at us in the disbelief (we don't know why), local parents with kids walking around and also doing some sports. Totally normal life:)
We were in much better moods at this point so we decided to try some food at the night market. There were plenty different dishes, but we decided to try the soup and fried chicken. It was delicious!!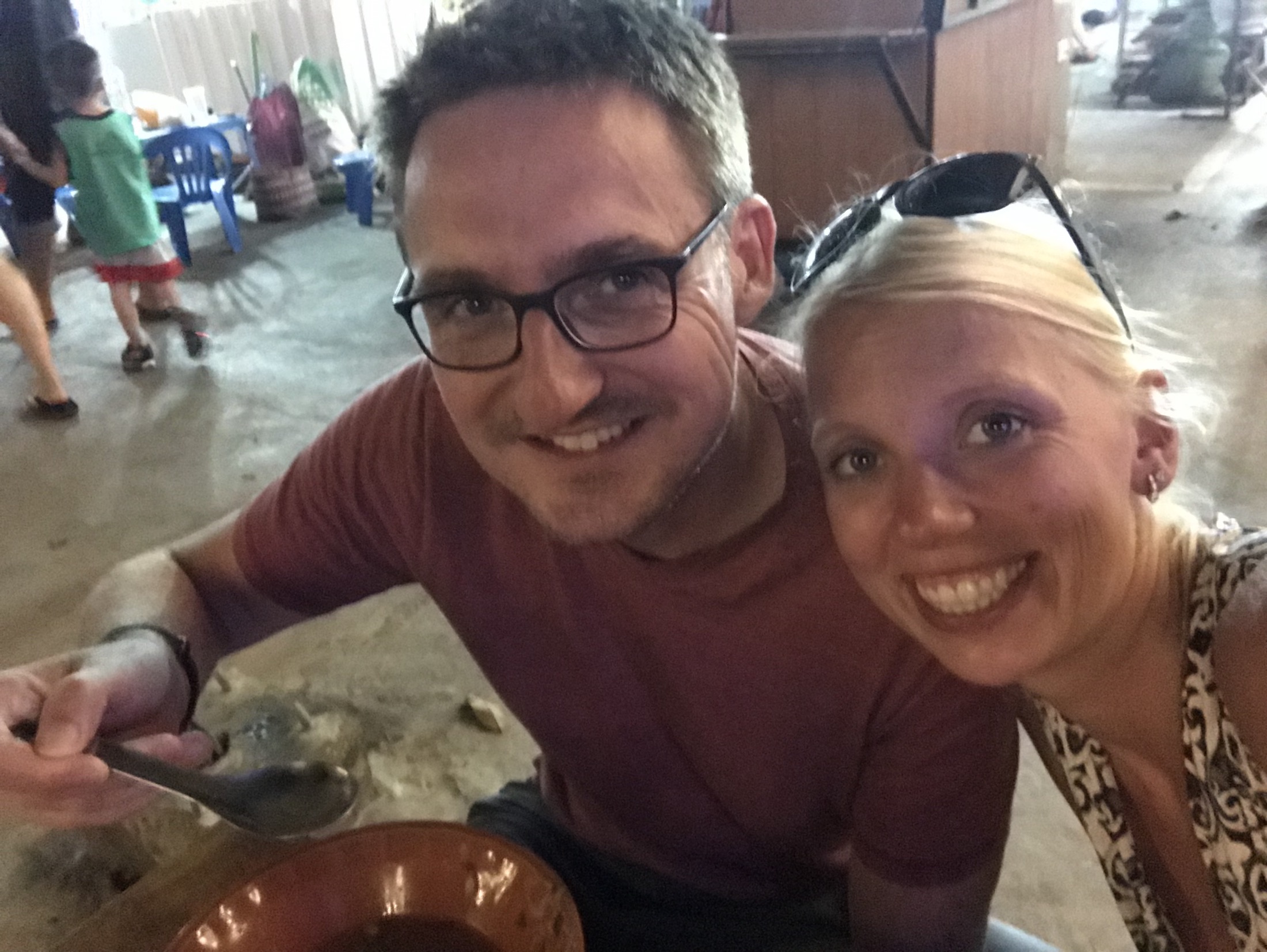 We hanged out a bit more, observing the sun going down and then slowly walked back to the hotel. Tomorrow the new adventure was calling and we had to be in a perfect shape!